Face of Indonesia in the movie industry.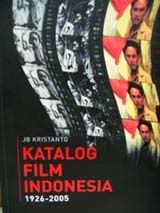 Probably this is the most complete guide and history of Indonesian film industry. A 500 pages book that including index of movie title and name, was released 11 years ago in 1995.
The title is Katalog Film Indonesia 1926-1995, a first edition of data record about Indonesian movies ever made.
Now the new edition has been released,
Katalog Film Indonesia 1926-2005.
Ideally, as catalogue, it should be revised anually because there's movies produced and it means there'll be a revised data.
JB Kistanto, the author of the book said there's so many obstacle why this book was not made anually. Because there weren't so many film produced each year, so the book became not too economic to be produced.
When we see the past decade, there're only 30 films annually excluding crisis era 1998-2000. 30 films were not going to add more than 10 pages, not too economic, right? The books consists of new 2438 Indonesian films and including pictures.
The movies in the catalogue are excluding the movies that made for TV broadcast and never been showed in theater, in the criteria of long duration film and or feature film with limitation of 60 mins duration, internationally.