Honda Grrr got Black, damn congrats!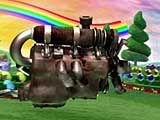 D&AD Awards Ceremony tadi malam diadain di Old Billingsgate, London, memilih bar-none standard di industri kreatif which is periklanan.
Honda "Grrr" berhasil dapetin Black pencil, name to view, dikit banget yg bisa dapet.
pemenang lain termasuk Citroen C4, Interbrew, ama Volkswagen, penghargaan tersebut meliputi mahakarya di bidang sinematografi, animasi dan scriptwriting to name but a few. Klik http://www.creativeclub.co.uk/DandAD2005/dandad.html buat ngeliat TV commercial-nya, for free kok.
Full list of nominations visit http://www.dandad.co.uk.